Root Canal Treatment in Central Coast
Endodontic therapy-better known as root canal treatment-is one of the final options available to save painful or abscessed teeth. When you're tempted to have a tooth extracted, getting a gentle root canal is the best investment in your smile's future.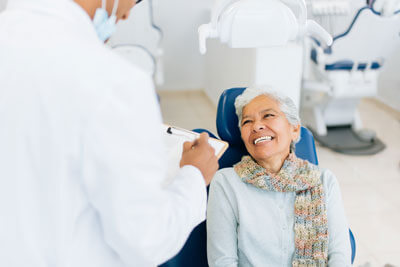 A root canal is usually needed in situations involving
Dental abscesses
Cracked teeth
Severe toothaches
Deep areas of tooth decay
Nerve death, due to trauma
A Seabreeze Experience
The level of anxiety that people experience with root canal therapy is no myth. Often, the biggest reason for concern is not understanding the process of what is being completed. While society may say that root canal treatment is painful, we're here to tell you that it doesn't have to be.
We take multiple steps to ensure the highest level of comfort for every root canal patient. In addition to treating you in a calm manner, we use more modern technology and medication to ensure that you don't have to feel a thing. That being said, we also recommend happy gas (inhalation sedation) to help put your mind at ease.
When you feel confident knowing that your comfort comes first, you can easily relax through a root canal just like any other routine appointment.
The Treatment Process
Most root canal treatments require 2-3 visits to complete. However, we can occasionally perform single-visit endodontic therapy if certain criteria are met. After making you comfortable, we gain access to the nerve chamber in your numbed tooth, removing the infected blood vessels and nerves.
Naturally, this step alleviates pain and inflammation. We slightly reduce the height of your tooth to prevent any biting pressure. On another visit, we'll prepare the clean chamber for the final root canal filling.
After your endodontic treatment is complete, we recommend placing a crown over your tooth to prevent any premature wear or breakage.

Root Canal Treatment Central Coast, Wamberal, Bateau Bay NSW | (02) 4384 4900