Checkups and Cleans in Central Coast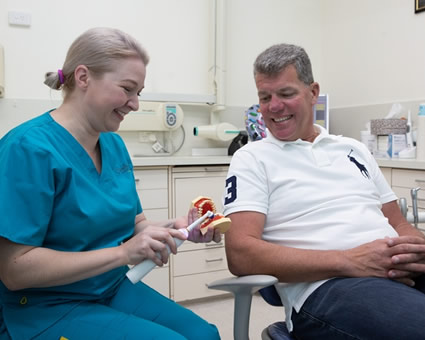 It's been said that the best place to start is at the very beginning, and with dentistry, it all begins with an initial comprehensive examination.
Our new patient checkups and cleans are booked with the dentist, while the subsequent scale and cleans are with our hygienist. During these visits, we'll identify concerns such as bleeding gums, infection or areas that require your attention.
The better educated you are about your smile's health, the easier it is to manage preventable dental concerns in the future. That's why we use our advanced miniature intraoral camera to take photos of your teeth so that we can show you the condition of your teeth.
Education and prevention are just a couple of ways we help you enjoy an anxiety-free dental experience. We also employ the latest technology! We are proud to offer gentle teeth cleaning with airflow.
At Seabreeze Dental, a dental exam includes the following:
Providing a thorough oral cancer screening, both visually and digitally (using the fingers), checking all of your lymph nodes, lips, tongue and the insides of your mouth and cheeks.
A series of diagnostic X-rays that provide a comprehensive view of your teeth and the condition of your bones.
A periodontal examination, which includes a thorough screening and assessment of your gums to check for any signs of periodontal (gum) disease.
An occlusal exam, to check for bite problems (underbite, overbite, crossbite), worn teeth, and jaw problems, such as TMJ.
A tooth-by-tooth check to identify cavities, examine prior treatment and restorations and the current condition of each. We will locate any chipped, cracked or missing teeth, or identify any work that needs to be performed such as protective sealants or fluoride treatments to strengthen the teeth.
If at any time during your exam we discover a condition or cavity that may need a filling, we'll develop a treatment plan straightaway.
We take great care to clean and polish your teeth. Our cleaning process includes:
Performing a thorough scale of all teeth to remove plaque and tartar.
Thorough flossing to remove any debris hidden between your teeth.
A deep, gentle cleaning along the surface of each tooth.
Applying of a fluoride treatment that will protect your teeth from cavities for several months.
Don't forget to ask Rhiannon about our Air Flow Technology that provides exceptionally gentle teeth cleaning.

A typical clean and exam lasts roughly one hour.
I haven't been to your practice in years. Can I make an appointment?

Absolutely. We'll never judge a patient based on their dental history-in fact, we believe the best time to get your oral health in order is now!
Is a general dental visit painful?

Not at all. We do our best to keep you comfortable and relaxed at all times. If you're anxious about visiting us, we're happy to talk you through the process or feel free to ask about our sedation dentistry options.
Ready to Book Your Visit?
Every journey begins with a first step! If it's been a while since you've seen a dentist, we'd be happy to provide you with a thorough examination. If you have any questions or would like to schedule an appointment, please contact us today.
CONTACT US »

Checkups and Cleans Central Coast, Wamberal, Bateau Bay NSW | (02) 4384 4900