Meet Dr Dimple Sharma (Dentist)
Creating Beautiful Smiles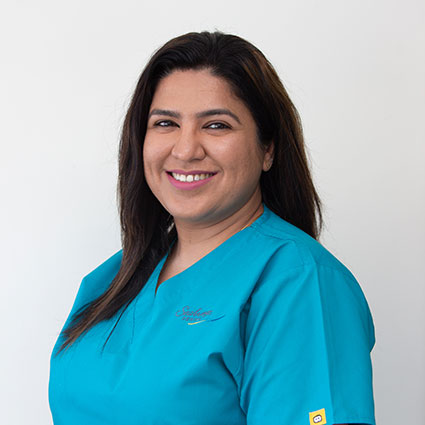 As the principal dentist at our practice, Dr Dimple brings her expertise and gentle approach to every patient she treats. With a focus on creating a comfortable and welcoming environment, she is dedicated to ensuring that each visit is a positive experience.
Inspired to Make a Difference
Dr Dimple's journey into dentistry began with a fascination for smiles and teeth alignment. Her curiosity about orthodontic treatments sparked a desire to understand the intricacies of dental care. This passion led her to pursue a Bachelor of Dental Surgery (BDS) and a Masters of Dental Surgery in Orthodontics (MDS). After successfully completing the Australian Dental Council qualification examination, Dr Dimple became a registered dentist in Australia.
Continual Growth and Expertise
Dentistry is a field that is constantly evolving, and Dr Dimple believes in staying up-to-date with the latest advancements. She regularly engages in professional development and continuing education courses, particularly in the areas of digital dentistry and clear aligners like Invisalign. Dr Dimple's commitment to expanding her knowledge ensures that she can provide her patients with the best possible care.
A Fulfilling Connection
What brings the most fulfillment to Dr Dimple is the connection she forms with her patients. Seeing a happy patient, witnessing a child's smile, and building a relationship of trust are the driving forces behind her dedication to dentistry. As a team, Dr Dimple and her patients work together to improve their perception of self-care, empowering them to take charge of their oral health.
EXPLORE OUR SERVICES »

Beyond the Dental Chair
Outside of work, Dr Dimple cherishes spending quality time with her two amazing children. Whether cheering them on at their sports activities or delving into mathematics challenges, family moments are her top priority. She also enjoys relaxation time with her favorite movies, meeting friends, and indulging in her love for music, podcasts, and literature.
She can't wait to welcome you into the practice. Book a visit or learn more about our services today and embark on your journey to a brighter, healthier smile.

Dr Dimple Sharma | (02) 4384 4900