Dental Restoration in Central Coast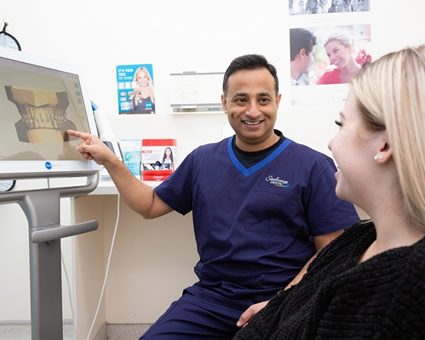 Tooth enamel is the hardest substance in the body-even harder than bone. You might think that should make it almost indestructible, but if it were, there wouldn't be any need for dentists.
While proper brushing, flossing and periodic cleanings and exams in our office contribute to a healthy smile, sometimes, even with the best dental care, you can experience tooth decay, cracked and chipped teeth or even missing teeth that affect the way you look and feel about yourself. That's where restorative dentistry comes in.
What Is It?
Restorative dentistry provides the perfect "fix" for those missing, decayed and damaged teeth and prevents them from becoming or affecting adjacent teeth. Common restorative treatments include
Why We're Different
Our approach to care is nonjudgmental and focused on your comfort. By putting you at ease and providing a relaxing experience, you can naturally enjoy reduced anxiety and a calm atmosphere. If you've been putting off dental care because of embarrassment or fear of the dentist, any conditions you have will only worsen with time. We're committed to changing your perspective about dentistry.
In addition to our compassionate staff, we help our patients by providing gentle sedation options for a true Seabreeze kind of experience. Select the level of relaxation for your needs and you'll be on your way to better oral health in no time at all.
Find Out If You're a Candidate
Restorative dentistry is designed to fix the problem with your teeth, relieve pain and pressure and provide you with a natural fit that replaces one, several or all of your missing teeth. If it sounds like something you could benefit from, we're here to help.
Contact us today to book an appointment.
CONTACT US »

Dental Restoration Central Coast, Wamberal, Bateau Bay NSW | (02) 4384 4900