Dental Implants in Central Coast
Our dentists have been providing dental implant therapy since 2009. These revolutionary tooth replacement treatments are ideal for anyone with missing teeth. They're also ideal if you have a hopeless tooth that needs to be extracted when it cannot be restored using other types of therapy. Implants also work well for someone who isn't happy with their denture.
How Do Dental Implants Work?
An implant is a titanium restoration that mimics the function of an anatomical tooth root. They're extremely well researched and successful, providing the longest life expectancy of any modern tooth replacement.
Dental implants are ideal for situations such as
Single Tooth Replacement – Most traditional implant treatments are for replacing an individual tooth. The implant is topped off with a custom crown that blends in with your surrounding smile.
Replacing Multiple Teeth – A pair of dental implants can easily support a 3-4 tooth dental bridge. This fixed restoration fills in wider gaps caused by missing teeth without requiring an implant for each respective tooth.
Full Mouth Restoration – With just 2-4 dental implants set into the jaw, we can design a denture that snaps onto the implant abutments for added stability. In some cases, existing dentures can be retrofitted to fit over dental implants. These designs improve the grip and comfort of your prosthesis throughout the day.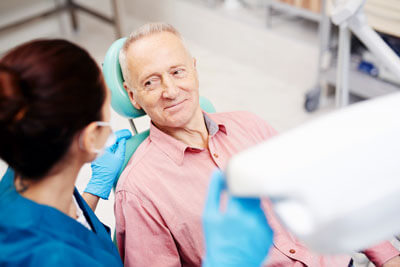 Typically, most of our implant patients have already had a brief consultation about the possibility of implants at a previous visit. The first step in dental implant therapy is a comprehensive examination and series of X-rays to assess your oral anatomy. A cone-beam image is ordered from the X-ray centre for us to evaluate the 3D internal structures of your mouth and jaw.
If we decide that dental implants are appropriate, we can plan where they should be located, based on your bone height and density.
Part of your planning process will be identifying how many implants are necessary and the type of restoration (tooth replacement) you'd like to put on top of them.
When you're ready to move forward with your implant placement, we will plan the next phase of your care plan: the implant installation. At this visit your mouth is thoroughly numbed at the installation sites, allowing us to insert each respective implant in an extremely gentle manner. While the only thing you'll expect to feel is a bit of pressure, we have optional nitrous oxide sedation for a calm, nonjudgmental experience.
After your dental implants are installed, you'll wait a brief period for the area to heal. Over several weeks, your bone will integrate with the implant to fuse it into place. For upper implants, this integration period is usually 3.5-5 months (due to softer bone) but only about 2-3 months for lower implants.
Full integration allows your new implant(s) to support the weight of natural teeth. At that point, we'll place a small abutment onto the top of the implant and then affix the permanent restoration into place.
Frequently Asked Questions
Is there an age limit for getting dental implants?
Yes, a patient should be more than 19-20 years old (should have completed his/her growth phase), but there is no upper limit age for dental implants.
How much do dental implants cost?
Each implant, along with its crown, costs around $4500-5000. If bone grafting is needed it is charged separately.
How long do dental implants last?
Dental implants have a high success rate (95-97%) and a high survival rate of approximately 94%.
How do I know if I am a candidate?
Please ask for an obligation-free consultation with the dentist.
With the concurrent use of high-quality photographs, 3D scans and state-of-the-art shade matching, staining and modification techniques, we strive to match the shade and shape of the natural adjacent teeth as much as possible, sometimes even mimicking the stains ( only if you want to).
As much as all possible steps are taken to ensure a close match, there might be certain unavoidable limitations of teeth, material or any unforeseen chance that there might be a near match, in which case the dentist will discuss all in detail prior to the procedure.
Does insurance cover them?
Dental implants are covered by private health insurance, depending on the level of cover. Usually, 3-4 item numbers are used for dental implant restoration. We can check at our end, or patients can check with the health fund themselves based on our treatment plan.
This procedure is used to augment deficient bone volume.
How long does it take to get implants?
It's case-dependent but it usually takes 2-3 months for the lower arch and 4-5 months for the upper arch.
Are there any potential risks or complications associated with dental implants?
Like any surgical procedure, dental implants do carry some risks and complications, but with careful surgical/medical and restorative planning, we can avoid these complications. We use high-quality CT scans, teeth scans, careful surgical implant planning, and precise surgical guides to execute the plan.
Reserve a Free Consultation
The ideal candidate for dental implants is someone with missing teeth (or planned extractions) and fairly healthy bone. If you'd like to learn more about the implant process and find out if you qualify, reserve a brief consultation with us today.
CONTACT US »

Dental Implants Central Coast, Wamberal, Bateau Bay NSW | (02) 4384 4900