Extractions in Central Coast
In nearly every scenario, our goal is to help you save and preserve your natural teeth. But sometimes there are reasons where removing a tooth is the best solution for your smile's health.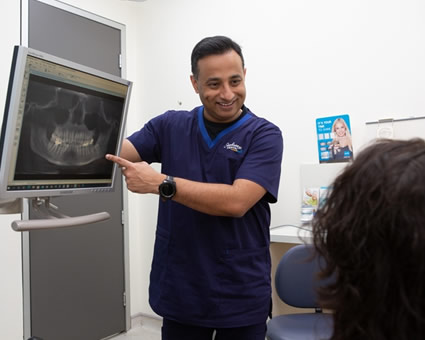 Common instances where dental extractions are suggested including circumstances like
Severe trauma
Aggressive decay
Significant breakage or fractures
Advanced periodontal disease
Chronic abscesses
Impacted wisdom teeth
If it's not possible to treat the tooth with a root canal or crown, then removing it is usually the best option. We will discuss the circumstances with you ahead of time, allowing you to play a role in the decision-making process.
The Seabreeze Experience
To reduce anxiety and enhance comfort, we offer sedation options that help you feel more relaxed. Whether you require a straightforward extraction or a surgical one, our practitioners will discuss what to expect so that you can select the best analgesia option for your situation.
Through many years of dental experience, we have developed a 3 STEP NUMBING TECHNIQUE to ensure you are comfortable throughout the process. In fact, many patients tell us that they don't realise the extraction has taken place until it's done.
We are proud to be able to provide a positive experience for our patients and ensure even the most anxious patients feel at ease in our care. You can be open with our team about how we can best accomodate your needs. Our practice is a completely judgment-free zone!
Each of our extraction patients will receive a post-op instructional brochure to explain what to do (or not do) during your recovery. Most of our clients are able to go back to work the next day without any issues. But just to be safe, we always call you the day after your procedure to follow up on how things are going.
Replacing Your Tooth
Removing a tooth creates extra space in your bite, which can then lead to changes in your overall tooth alignment. To preserve natural tooth spacing and biting patterns, we highly recommend replacing your extracted tooth as soon as possible. Examples of preferable treatment include restorations like bridges or dental implants. We'll discuss your options in advance so that you can plan accordingly.
'Do I Need My Tooth Pulled?'
If you're contemplating having a painful tooth extracted, contact us today.
CONTACT US »

Extractions Central Coast, Wamberal, Bateau Bay NSW | (02) 4384 4900